Border Melodies @ Borders Textile Towerhouse
Overview
Border Melodies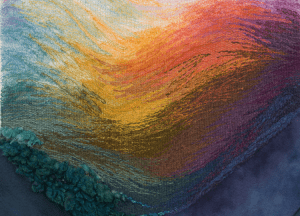 Exhibition Date: Thursday 30 September to Friday  24 December 2021
Area: Exhibition room, Borders Textile Towerhouse
Eta Ingham Lawrie brings to you, freestyle wall hangings woven on an upright loom from small pastel sketches.
The weaver hand-dyes her own materials, mainly wool from local sheep, to obtain the variety of shades needed.
The work was inspired by the flow of light on the Borders land and seascapes.
Booking tickets in advance is advisable, click HERE to book your tickets today!
Share
When & where
1 Tower Knowe

Hawick ,TD9 9EN