Overview
Unearthed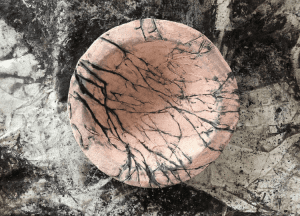 Area: Waterfall Gallery, Hawick Museum
Exhibition Date: Thursday 19 August to Sunday 14 November 2021
We are delighted to be exhibiting the work of extablised and Borders artist Mooie Scott.
Showcasing new paintings and ceramics that were completed in 2020 but have not been shown until now.
Each canvas is drawn from the landscape in a very physical way, they were buried in soil until changes came over them.
The works were then transformed in the studio, collaged, drawn on and painted to make a sensory and visual finish. Acrylics, graphite, charcoal, clay, wax on both linen and canvas are some of the materials used.
The paintings are complemented by biscuit-fired and glazed ceramics, the ceramics reveal the surfaces and textures of the raw materials from which they are made.
The finished exhibition is visually impressive with a strong natural feel and well suited to its first location in Wilton Lodge Park.
Booking tickets in advance is advisable, click HERE to book your tickets today!
Share
When & where
Wilton Lodge Park

Hawick, TD9 7JL