Museum adventure this October!
Museum Activities this October
During the October school holidays, we have some great activities in our museums for children right across the Scottish Borders.
With many of these activities FREE we hope that this will give children, young people and families time to reconnect and have some fun, some learning and some spookiness!
Activity Trails
Museum sites across the Borders are running a range of family friendly trails, that will run all through October so why not come along during the holidays or visit us at a weekend!
Please remember although it is not necessary to pre-book tickets for the trails, we do advise that you pre-book the museum tickets to gain entry to take part in the trail to save any disappointment.
Jim Clark Motorsport Museum, Duns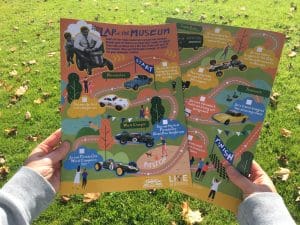 The Jim Clark Motorsport Museum has a fun family activity trail, so why not visit us during the holidays! Jim's sheepdog was called Sweep – but he has gone missing! Take a  'Lap of the Museum' to help find Sweep and learn all about the life and career of Jim Clark as you do! Remember to collect your sticker at the end!
BOOK and pay for your museum tickets HERE!
Mary Queen of Scots' Visitor Centre, Jedburgh

Mary Queen of Scot's Visitor Centre has the 'Scottie Trail'. Mary Queen of Scot's loved her Scottie dogs, can you find the ten troublesome Scottie dogs hiding throughout Mary Queen of Scot's House. Don't forget to tell staff and pick up your sticker reward at the end!
BOOK your free museums tickets HERE!
Borders Textile Towerhouse, Hawick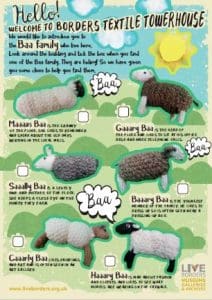 Borders Textile Towerhouse has the 'Baa Family Fun Trail'.  Can you find the Baa family members who are hiding around the museum? We have some clues that will help you! Don't forget to collect your Baa sticker before you leave!
BOOK your free museums tickets HERE!
Hawick Museum, Hawick

Hawick Museum has the Egyptian inspired trail 'Pots, Pyramids and Puzzles'! Find out about Ancient Egypt throughout this trail as well as our themed displays with brass a rubbing activity! Then head into the 'Park Gallery' and try out the activity table and the 'Old School Room, find out why schools are much more fun than they were 100 years ago!
BOOK your free museums tickets HERE!
Sir Walter Scotts' Courtroom, Selkirk
Sir Walter Scotts' Courtroom welcomes families to come and take part in the 'Selkirk Canine Characters Trail'. Did you know that Selkirk had five famous dogs? Find all five dogs hidden in the courtroom then take a walk around Selkirk and follow the canine trail!
BOOK your free museums tickets HERE!
Jedburgh Castle Jail, Jedburgh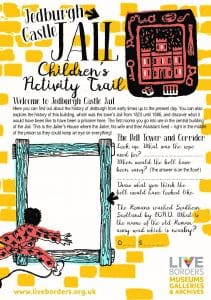 Are you brave enough to come and visit us at Jedburgh Castle Jail and Museum this October!
Discover for yourself the spooky goings on at Jedburgh Castle Jail!  Look out for the witches, mummies, ghosts and ghouls as you make your way through the castle, using the clues to solve the puzzle.  Remember to collect your spooktastic prize at the end!
The trial costs £2.50 but entry to the Jedburgh Jail Castle and Museum is free. You do not need to pre-book the trail but we do advise you pre-book the FREE museum tickets to guarantee entry.
BOOK your free museums tickets HERE!