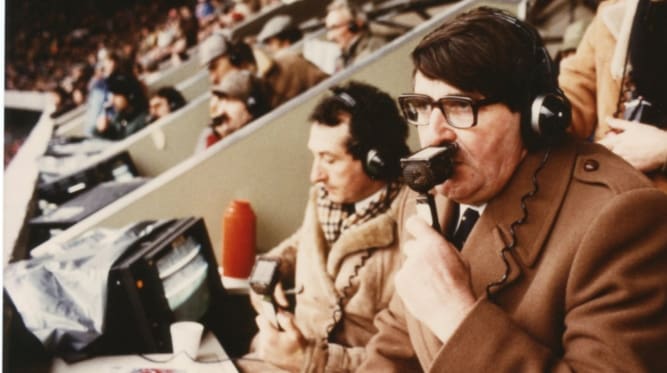 Bill McLaren Centenary Exhibition Opens to Plaudits!
BILL MCLAREN CENTENARY EXHIBITION OPENS TO PLAUDITS AT HAWICK MUSEUM!
The exhibition, organised by Live Borders in partnership with The Bill McLaren Foundation and Hawick Rugby Club, celebrates the life of the late 'Voice of Rugby', Bill McLaren. It combines a collection of previously unseen artefacts from McLaren's life and career in an immersive digital gallery, including a recreation of his chaotic study where visitors can hear the last interview he gave from a concealed loud speaker.
Over 100 guests joined former Scotland international rugby player Andy Irvine for the much-anticipated opening of the Bill McLaren Centenary Exhibition at Hawick Museum on Wednesday 4 October.
Visitors will also get the chance to sit behind a microphone and record their own match commentary, as well as view rarely seen memorabilia and photos.
Tony Stanger's number 14 shirt and his 50th cap – which was found in the Murrayfield archives during research for the exhibition – are also on display, alongside the original "Big Sheet" McLaren prepared for Scotland's 1990 Grand Slam victory over England in which Hawick's Stanger scored the winning try.
"Bill McLaren was a very special man and we are privileged to share this insight into his life and work," says Shona Sinclair, Curator for Live Borders Museums, Galleries & Archives. "We are passionate about creating memorable experiences and I think everyone who has been involved in this event, from research and planning to delivery, is proud to have played a part in bringing his story to life."
The Bill McLaren Centenary Exhibition runs at the Hawick Museum until 27 November. It will then reopen in March 2024 alongside a new 'Hawick RFC 150' exhibition, celebrating Hawick RFC's 150th anniversary.
Elsewhere, and using its platform to promote a high profile Scottish Government campaign, Live Borders supported Scottish Women and Girls in Sport Week 2023 (2-8 October) with a range of activities at Teviotdale Leisure Centre and through social media.
The aim of Scottish Women and Girls in Sport Week was to inspire and support every woman and girl in Scotland to get active, regardless of their ability and who they are. The campaign – focused on the hashtag #SheCanSheWill – also highlighted the physical, mental and social benefits that physical activity can bring, reinforcing Live Borders' commitment to expanding participation levels across a range of target groups and activities to get more people, more active, more often.
To easily access Live Borders services – from swim, gym and fitness, to exhibitions, live music, comedy and entertainment, to kids' holiday activities – download the charity's new App from the Apple App Store or Google Play Store now.
To visit the website and for more information about what's on, visit: www.liveborders.org.uk
Share