Girls Soccer Centre announced for Innerleithen
Live Borders in partnership with Leithen Vale Sports Club are proud to announce a new Scottish FA girls only Soccer Centre will commence this week in Innerleithen.
The Claire Emslie Soccer Centre aims to get more girls playing the game and this is a great opportunity for young girls between 7 and 12 to attend weekly football sessions led by Scottish FA qualified coaches.
The sessions will be delivered as part of the partnership between Scottish FA, Live Borders and Leithen Vale Sports Club Innerleithen.
Just register at the centre and get the first four sessions for FREE.
The first sessions will take place as follows:
Thursday 7 September from 18:30-19:30 for the 10 to 12 year olds
Friday 8 September from 18:30-19:30 the 7 to 9 year olds.
Drew Kelly SFA Football Development Officer for the Scottish Borders and Live Borders said:
"It's fantastic to launch our first Scottish FA Claire Emslie Soccer Centre for girls in Innerleithen.  There has been a lot of great work being done to grow the girl's game throughout the area and Innerleithen was an obvious fit when you see the enthusiasm already shown by the club and its members," he said.
"This is not a one off as we will be launching similar centres throughout the region in the coming weeks and months. It is great to see how much the girls game has grown already from the first two clubs (Melrose and Lauderdale) to the number of additional clubs and where we are now. With these new centres, as well as the planned South East girls festivals we will continue to deliver on our commitment to expand the opportunities for girls to play the game in the Scottish Borders."
For more information please contact info@leithenvalesportsclub.co.uk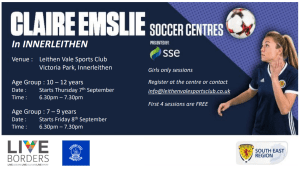 Share