Jim Clark's famous D-Type Jaguar goes on public display at Motorsport Museum
Legendary racer Jim Clark's former Jaguar D-Type racing car took pride of place after arriving at the Jim Clark Motorsport Museum today (22 March).
The iconic sports car will be on display in the Duns-based Museum for the 2023 season.
The Jaguar D-Type, with its distinctive shape, was also the car that launched Jim Clark from amateur racer and into the mainstream of motorsport.
Jim demonstrated his talent by winning the BDMC Trophy in 1957, convincing Jock McBain, the local garage owner that he should reform the Border Reivers Racing Team with Jim Clark as his main driver. The Jaguar D-Type TKF9 now on show, was purchased for the team and the 1958 racing season.
Clark raced 20 times in the Jaguar winning 12 races. In the car, Clark became the first British racing driver to average over 100mph in a British sports car race at Full Sutton, Yorkshire in April 1958. A month later in May, he competed internationally for the first time at the Spa Grand Prix (for sports cars over 1500cc).
The arrival of the car on Wednesday was greeted by a number of Jim Clark Motorsport Museum staff, volunteers and members of the Jim Clark Trust.
Among the locals to greet the D-Type was local resident Ian Deans, who was a teenager when he worked on the car as a mechanic in the Jim Clark era.
Learning and Engagement Officer at the Jim Clark Motorsport Museum, Kenneth McLean, is confident the new car will bring renewed interest.
"This is the first car that we have had on display that is not a Lotus, so it's great to remind people of the Jim Clark's story prior to Formula One," he said.
"This is an iconic racing car which will attract motorsport enthusiasts from around the world and is a huge draw back for people who have already visited the Museum."
The car is owned by a partnership, Fica Frio Ltd. Simon Harper, a Fica Firo partner said:
"We are really pleased to lend the D-Type to the Jim Clark Motorsport Museum. We had the car up here in 2019 and we saw how much people in Duns loved it, so feels appropriate to display it in the Museum."
The Jim Clark Motorsport Museum is managed by local Charity Live Borders. The Museum is open six days a week (closed Wednesday's). For opening times or more information, click here.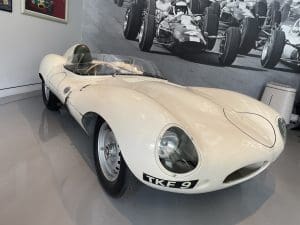 Share