SBC's Inspire Learning delivers a live digital lesson to school pupils to mark the 100th birthday of the late Bill McLaren
Scottish Borders Council's Inspire Learning team delivered a live digital lesson to school pupils across the region this week, to mark what would have been the 100th birthday of legendary local sports commentator, Bill McLar
en.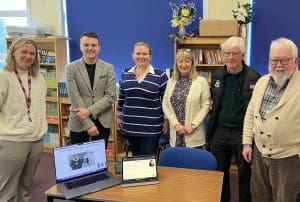 Scottish Borders Council's Inspire Learning team delivered a live digital lesson to school pupils across the region last week, to mark what would have been the 100th birthday of legendary local sports commentator, Bill McLaren.
The event was presented by some of SBC's Inspire Learning team from Trinity Primary School in Hawick, Bill's former school, on Tuesday 17 October, via the digital platform School House. 45 classes from all over the Borders took part, including many schools in Hawick plus primary schools in Galashiels, Kelso, Duns, Peebles and Morebattle.  Over 1000 pupils watched the live lesson and completed interactive activities via the Showbie digital platform.
The event run in partnership with Live Borders, the Bill McLaren Foundation, Hawick RFC and Hawick Museum and was developed to educate young people on the life and legacy of Bill McLaren – The Voice of Rugby, marking the centenary of his birth.
The interactive session included photographs, videos and audio clips from Bill's life and pupils completed activities using the Maps app to find places connected to Bill's life story.
Councillor Leagh Douglas, SBC's Executive Member for Education and Lifelong Learning said: "The role of technology in education is really important, and having the opportunity to deliver live digital lessons through our Inspire Learning programme to hundreds of young people from a number of our schools at the same time is fantastic".
The Bill McLaren Centenary Exhibition is also running at Hawick Museum from 4 October to 27 November.  Pupils that attended the live lesson will also have the opportunity to visit the exhibition with funding for transport being provided by the Bill McLaren Foundation.
Image:  L-R: Helen Orde, Roddy Graham, Suzanne Pritchard (Inspire Learning Lead Teachers), Shona Sinclair (Curator of Hawick Museum), Ian Landles (President, Hawick RFC), Murray Watson (local historian)
The Bill McLaren Centenary Exhibition at Hawick Museum runs from 4 October – 27
Nov.  More details can be found here: The Bill McLaren Centenary Exhibition – Live Borders
The Bill McLaren Foundation was set up in March 2010 to raise funds to support the development of rugby and its values within Scotland and beyond. It was also established to recognise the contribution Bill McLaren made to rugby through education and the development of an interpretative centre.
For more information contact marketing@liveborders.org.uk
Share