Roxburgh region recognised at Club Sport Awards
Sportsmen and women from the Roxburgh cluster area celebrated the annual Club Sport Awards at the Jed Forrest Rugby Club on November 11.
Celebrated along with charity Live Borders, Roxburgh was the third of four regional award ceremonies of the season, which see individuals and clubs recognised for their efforts within sport and in keeping the region more physically active.
Runner Alastair Walker (known as Sammy) took out the coveted Sports Personality of the Year Award for his achievements throughout the year.
After retiring from running at 38, two-decades later at 58 and watching his sons and grandchildren running with Teviotdale Harriers reignited a spark. After a faltering come back, he started to train seriously again, winning British, European, and world titles in the Male 60 category.
Sammy travelled to Tampere, Finland in July for the World Masters Championships and despite losing his luggage on the way there, he triumphed in the track 5000m and the 10km road race. To prove it wasn't a fluke, he then lost his luggage on the way home and had an anxious three week wait before being reunited with two gold medals.
Two world gold medals in one year is quite something, but to also smash four long standing world records in a year further outlines his credentials. 3000m indoors (time of 9:59), 5000m outdoors (16:36) breaking a record that stood for 30 years, 5km road (16:35) a 24 year old record and 10km road (34.32).
Michael Nicoll was awarded with the Disability Award following his outstanding achievements in bowls.
In July this year Michael became Para Bowls Scotland champion for the second time in the B6 category. In September Michael was selected to represent Scotland in the Para Home Nations tournament at Weston Super Mare, where he acquitted himself well winning both his pairs and triples matches against Wales but unfortunately losing both games against England.
The Junior Sports Personality of the Year award went to young boxer Rosie Swailes, who started her boxing journey with the Hawick Boxing Club six years ago.
Over the past season which has been her first as a boxer due to the lockdown, Rosie won her first couple of scoring bouts so decided to enter into the Scottish Novice Championships which she dominated.
Rosie's ability has shone through recently and was selected to represent Scotland in the British Tri Nations Championships, where she returned with a silver medal.
Her loss in the final being her only one to date, Rosie never wanted to feel like that again and vowed to get over it quickly. Her season culminated with winning the Wallace Box Cup, beating the Welsh champion and a fellow Scottish boxer on the way.
For his work promoting Swimming, David Payne claimed the Coach of the Year Award.
David began his coaching career with Kelso ASC back in 2017 after completing 23 years as an Officer in the Royal Air Force and quickly became a real asset to not only the club but swimming in the Borders region.
A long list of coaching credentials and qualifications has followed, and he now spends his time with the Kelso ASC and Borders Elite Swim Team (BEST).
Roseanna Prentice was awarded the Junior Coach of the Year for her efforts in hockey, swimming and boccia – coaching a range of different levels, ages and abilities.
The main thing Roseanna enjoys about coaching is feeling that sense of pride when you see the players face light up when they have improved on a skill or are trying something completely new.
The Hawick Youth U18's Rugby Team took out the Team of the Year Award following an impressive season.
The team completed an unbeaten season by winning all 22 matches in the South Semi-Junior League. They also won the Borders Cup beating Kelso Harlequins in the Final and won 7's tournaments in Peebles, Hawick and Jed Thistle as well as being runners up at Selkirk.
Long-time sports scribe John Slorance was recognised for over 50 years of sports reporting with the Service to Local Sport Award.
Special Achievement Awards were also given to David Killean (Cycling), Lucy Hope (Swimming) and Oscar Onley (Cycling) for outstanding results in 2022.
See the full image gallery here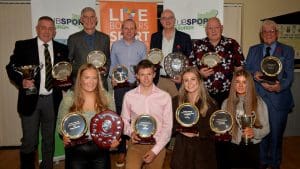 2022 winners at a glance
Special Achievement Awards – David Killean, Lucy Hope and Oscar Onley
Junior Coach of the Year – Roseanna Prentice
Coach of the Year – David Payne
Team of the Year – Hawick Youth Rugby 18's
Service to Local Sport – John Slorance
Disability Award – Michael Nicoll
Junior Sports Personality of the Year – Rosie Swailes
Sports Personality of the Year – Alastair Walker
Share