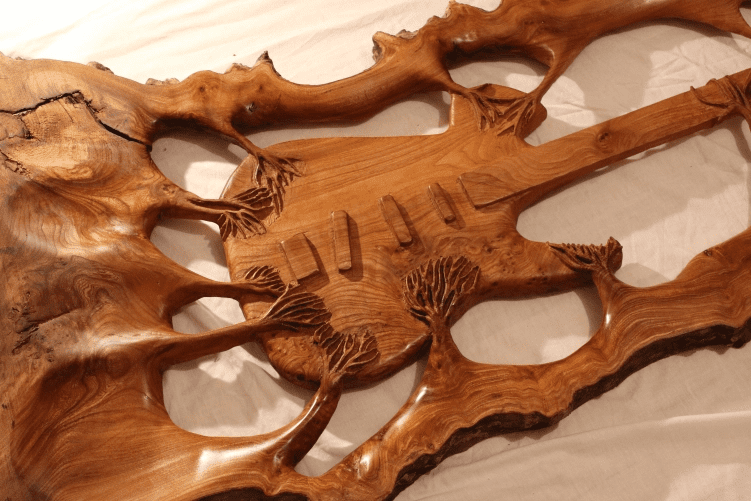 An exciting new temporary exhibition is showing in our Waterfall Gallery at Hawick Museum, showing the work of local craftsman, Robin Runciman. His Wildwood collection features a selection of wall art, sculpture and furniture made from Scottish hardwoods. And, best of all, these stunning pieces are all available for purchase. practical and beautiful heirlooms! Read on to find out more about these unique pieces and the making process behind them…
Having lived and worked in the Borders all his life, Robin gravitated toward creating art that reflects this beautiful part of the world. It was through working the land as a farmer that his interest slowly grew. His Wildwood Scotland workshop is located just a few miles from Lauder.
For the last decade, Robin has been sourcing and storing beautiful Scottish hardwoods to make original sculpture and furniture. Each piece of wood has been through a curing process of up to six years and every piece of furniture or sculpture is made to last a lifetime.
The trees Robin uses are felled due to age or have fallen naturally. Depending on the species and characteristics, Robin decides whether they will make the collection. After felling (or collection), the tree is taken to saw mills where it is sliced into the appropriate thickness for furniture.
The wood is stored for at least three years to air-dry. Each plank is separated and treated for diseases and pests. Once the trees are suitably dry, they are taken to the custom-built kiln to remove any excess core moisture to protect against warping.
Finally, Robin checks each board for moisture, deviance across the plank and the characteristics of the wood, this decides how that piece will be used. His meticulous attention to detail enables Robin to create the beautiful objects which are synonymous with Wildwood Scotland.
The exhibition runs from 10 March to 5 May 2019 at the Waterfall Gallery, first floor, Hawick Museum, Wilton Lodge Park. Entry to the gallery is free and donations are welcome.
Hawick Museum opening hours:
March – April, Monday to Friday, 12:00-15:00, Sunday 13:00-15:00.
April – May, Monday to Friday, 10:00-12:00, 13:00-17:00, Saturday and Sunday 14:00-17:00.
Live Borders is a charity. Every penny you spend with us is reinvested into supporting active, creative and healthy communities in the Scottish Borders.
Share