Historic Spa with connections to Sir Walter Scott
St. Ronan's Wells Visitor Centre
Overview
We are now closed for the winter, we look forward to welcoming you back in Spring 2024! 
St Ronan's Wells Visitor Centre
Family Fun Drop in Days
Insect Making and Finding
Sunday 10 September – 14:00-16:00
Find out more here
St Ronan's Wells Historic Spa site, garden and a well with literary connections to Sir Walter Scott and James Hogg.
St Ronan's Wells is currently undergoing a service development review.
No decision has been made to not open St Ronan's Wells this season (June to October).  Consultation with community and stakeholders will be key in agreeing short term proposals, and longer term service provision.  A monthly programme of learning, well-being and craft activities will also be offered during season 2023 consultation period. Details will be listed on Live Borders' website on the Museums events page.
The beautiful gardens are open all year round. Garden volunteers are usually on site on Thursdays and plants are available to purchase.
Picnic tables and chairs are located beside the pavilion area.
St Ronan's Wells is a 10-minute uphill walk from town centre. There is free parking, disabled parking, a bike rack and dogs on leads are welcome in the grounds.
Donations to support St Ronan's Wells, museum collections and programmes can be made all year round, via the outdoor donations box located in the pavilion.
History of the site: St. Ronan's Wells was a popular spa where people came to drink the water from the sulphurous spring which helped with their ailments. At one time rivalling the town of Harrogate, the current pavilion was built by the first bottled water company in Scotland. It is set in a lovely community garden and has a new access programme of monthly workshops, talks on the collections, tours and events.
The centre's name comes from the founding legend of an itinerant pilgrim monk called St Ronan, who came upon Innerleithen on his journey up the River Tweed. The local story claims that "St. Ronan cleik't (caught) the Deil by the hind leg and banished him", referring to the monks bringing Christianity to this part of the world.
St. Ronan's Border Games were founded by James Hogg 'the Ettrick Shepherd' in 1827 to give the locals an enjoyable pursuit and to entertain the many visitors thronging the village to "take the waters". The annual Games and Cleikum Ceremonies are still celebrated mid-July.
Subscribe to our Museums, Galleries & Archives Updates
Plan your visit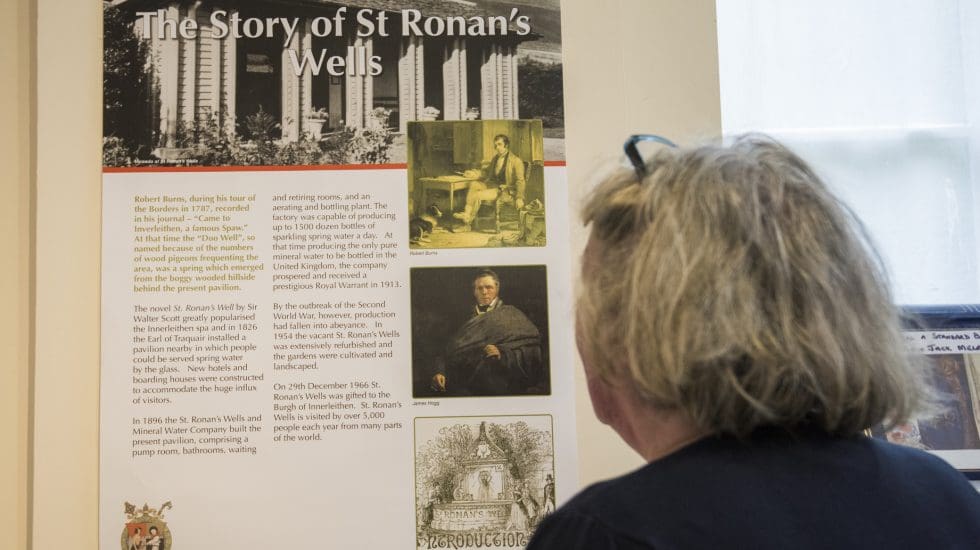 There is free parking and disabled parking. The museum is accessible by public transport, the number 62 Galashiels-Edinburgh route bus passes through the town, then a 10-minute walk. There are picnic areas and dogs on leads are welcome on the grounds. Assistance dogs are welcome.
Opening Times
See museums events pages for open days/activities programme.
The Garden/Well and Pavilion are open all year
More Places You Might Like