Live Borders Creative Spaces
Mental Health Awareness Week takes place in May, the theme for 2022 is 'Loneliness'. The Scottish Mental Health Arts Festival also takes place in May, the theme for their 2022 festival will be 'Gather'.
Based on those themes, Live Borders Arts & Creativity are working with the Joint Health Improvement Team (NHS Borders and Scottish Borders Council) to run some fun and creative workshops across the Borders to help people come together and feel the benefits of getting creative.
All of the workshops are FREE, very informal, and open to anyone. They will be delivered by some specially commissioned local artists, and will help us all think more about what it means for our wellbeing to come together with other people, and how, after Covid-19, we can better connect with others. 
Theatre of Stories with Shifting Sands Theatre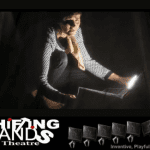 Date: Saturday 21 May from 14:00-16:00
Venue: Heart of Hawick, Hawick
"We do not stop playing because we grow old, we grow old because we stop playing" – Benjamin Franklin
As an 'adult' how can physical games and playfulness awaken and inspire creativity? How can you bring the words of a story alive using movement, imagination and simple props and turn the stories into Theatre?
This fun and free workshop will highlight how positive mental health can be achieved by playing with others.
Creative Journalling with Sarah Howell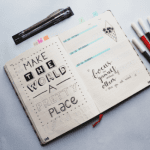 Date: Thursday 26 May from 10:30-12:30
Venue: Eyemouth Library, Eyemouth
Why journal? What types of journaling are there? What are the benefits? What to do with them. This is a hands-on creative session benefitting all participants; we share conversation about process rather than content.
Poetry for Fearties with Sarah Howell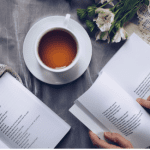 Date: Thursday 26 May from 14:30-16:30 
Venue: Galashiels Library, Galashiels
Exploring the self through three different forms of poetry – Haiku, reflexive and Dada – using straightforward creative templates; this one is a particular favourite with participants where even the visually expressive folk were confident to share their poetic outcomes.
The Joy of Dance – A workshop with Liz Hay and Sara Best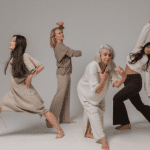 Date: Thursday 26 May frmo 17:30-20:00
Venue: Jedburgh Campus, Jedburgh
Join Liz Hay and Sara Best for a 2.5 hour workshop to engage with the joy of dance, movement & self-expression in a safe shared setting, and use the format of led yogic structure to create individual connectivity with both the energies of self & of the universe. 
Suitable for 14years+
Using prompt objects to kick-start your memoir with Sarah Howell
 Date: Saturday 28 May from 10:30am – 12:30
Venue: Peebles Library Museum and Gallery, Peebles
To help elicit focus on an event, prompt objects are used to connect to a story from life, writing a short chapter and sharing to discover connections within the group.